We worden opnieuw verwend met een topper van een patroon uit Australië.
Finch is de nieuwste telg in de Sewpony familie en is een patroon voor een comfortabele jurk met mooie details.
Je kan kiezen voor een getailleerde jurk met elastiek rondom of 3/4de elastiek (zoals in mijn versie).
Verder opteer je voor mouwloos, korte mouwen, 3/4de mouwen of lange mouwen en kan je geweven of rekkende stoffen gebruiken.
Reden genoeg om hem in huis te halen!
We're being spoiled again with a fantastic pattern born in Australia.
The Finch dress is the newest kid in the Sewpony family and is a sewing pattern for a comfortable dress with beautiful details.
Lots of options are include, you can choose for an elasticated waist the whole way around or 3/4 of the way around (like I sewed mine).
You can go for a sleeveless version, one with short, 3/4 or long sleeves and the pattern can be used for woven or knit fabrics.
All the more reason to get this one!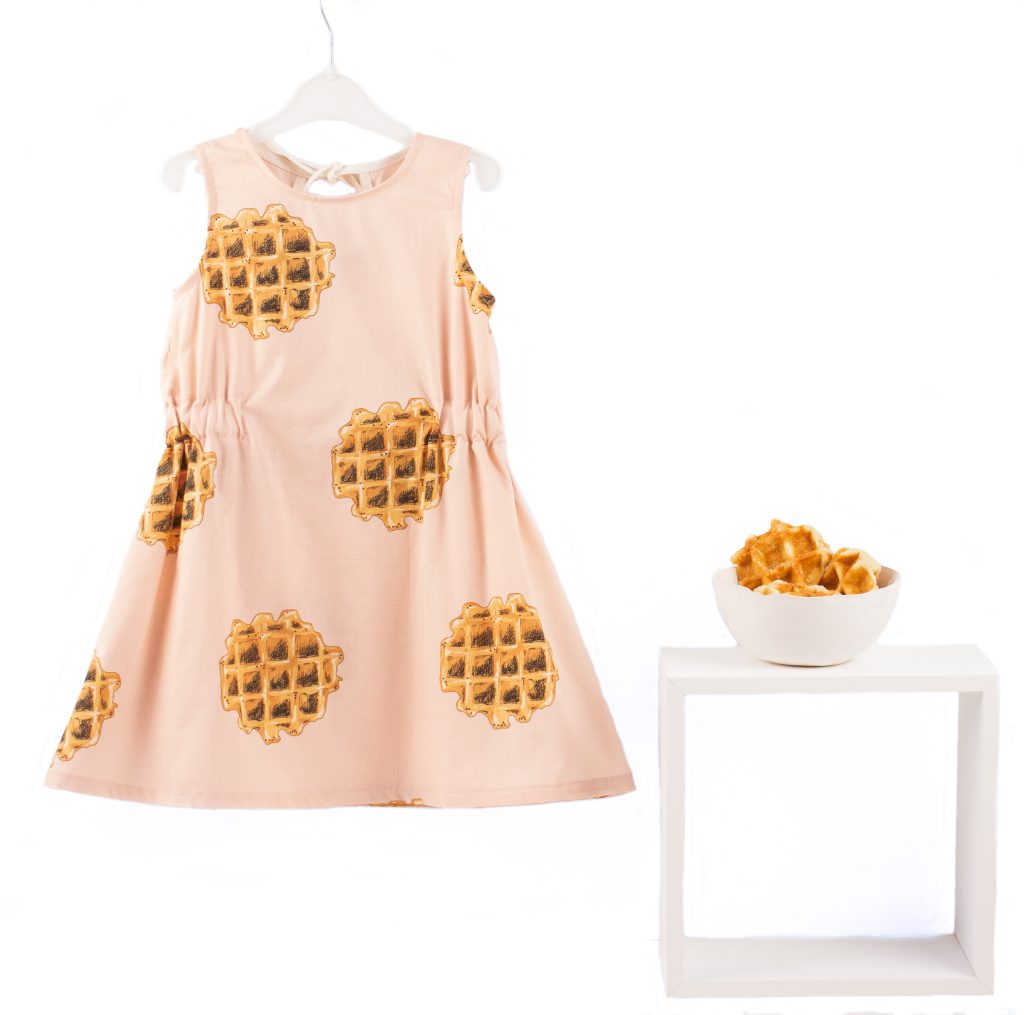 Nova'tje heeft nog zo'n schattig babybuikje dus ik koos voor de elastiek die 3/4de wordt rondgenaaid in een tunnel binnenin.
Die nieuwe stof van See you at six heeft mijn hart gestolen en buiten alle effen kleuren, kocht ik ook de katoen met wafelprint.
Zeg nu zelf, je wil toch zo'n heel pak naar binnen schrokken als je die stof ziet ;-).
Voor de fotoshoot haalde ik een pak in huis (en ik moest me serieus inhouden om er geen 4 te kopen), anders krijg ik Nova nooit zover om te poseren 😉
Because of her cute little baby belly, I chose to make the version were the elastic gets sewn 3/4 of the way around.
It gets inserted in a tunnel at the inside.
Did you see the new 'See you at six fabric collection'? It stole my heart and I bought all the solids and this lightweight cotton with waffle print.
You must admit, when you lay eyes on this fabric, you just want to eat a whole pack of them.
I only bought one pack for the photoshoot, to get Nova to stand still but I had to restrain myself or I would have bought 4 packs or more ;-).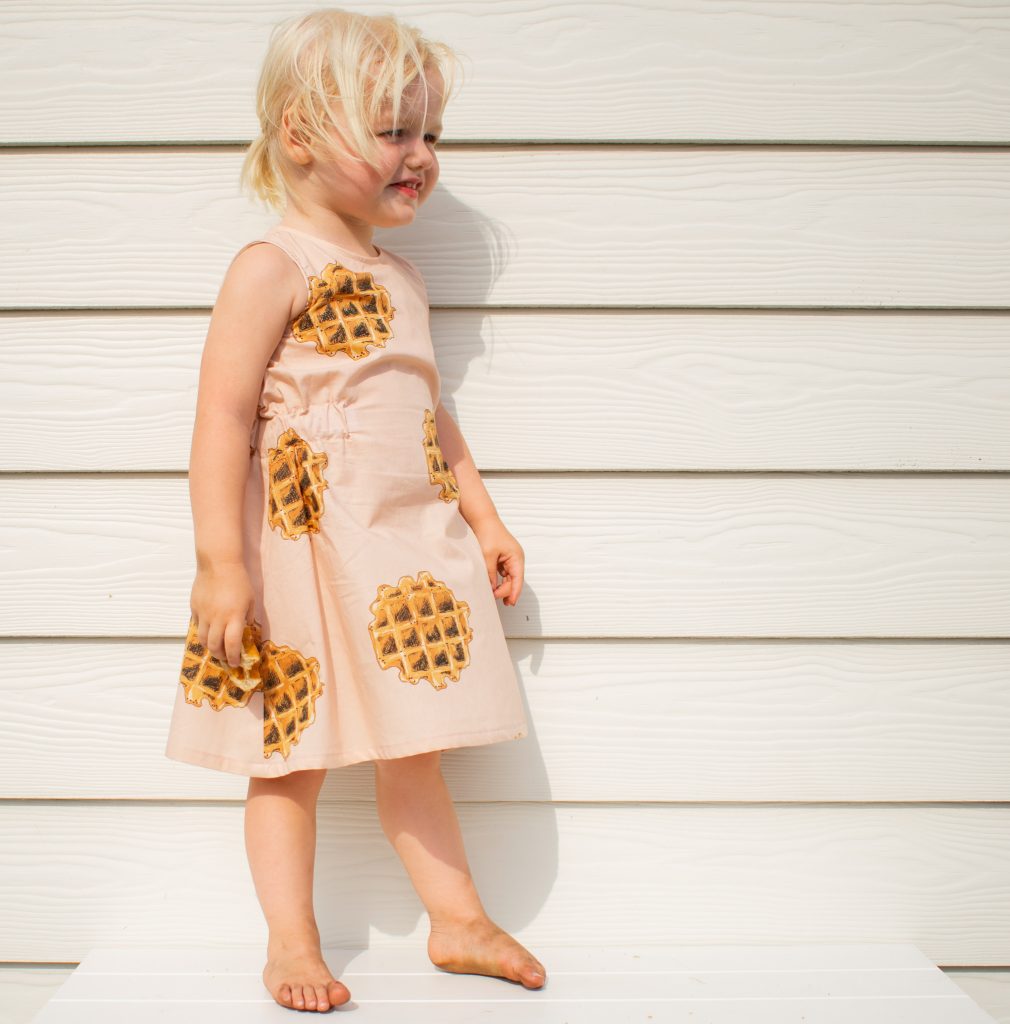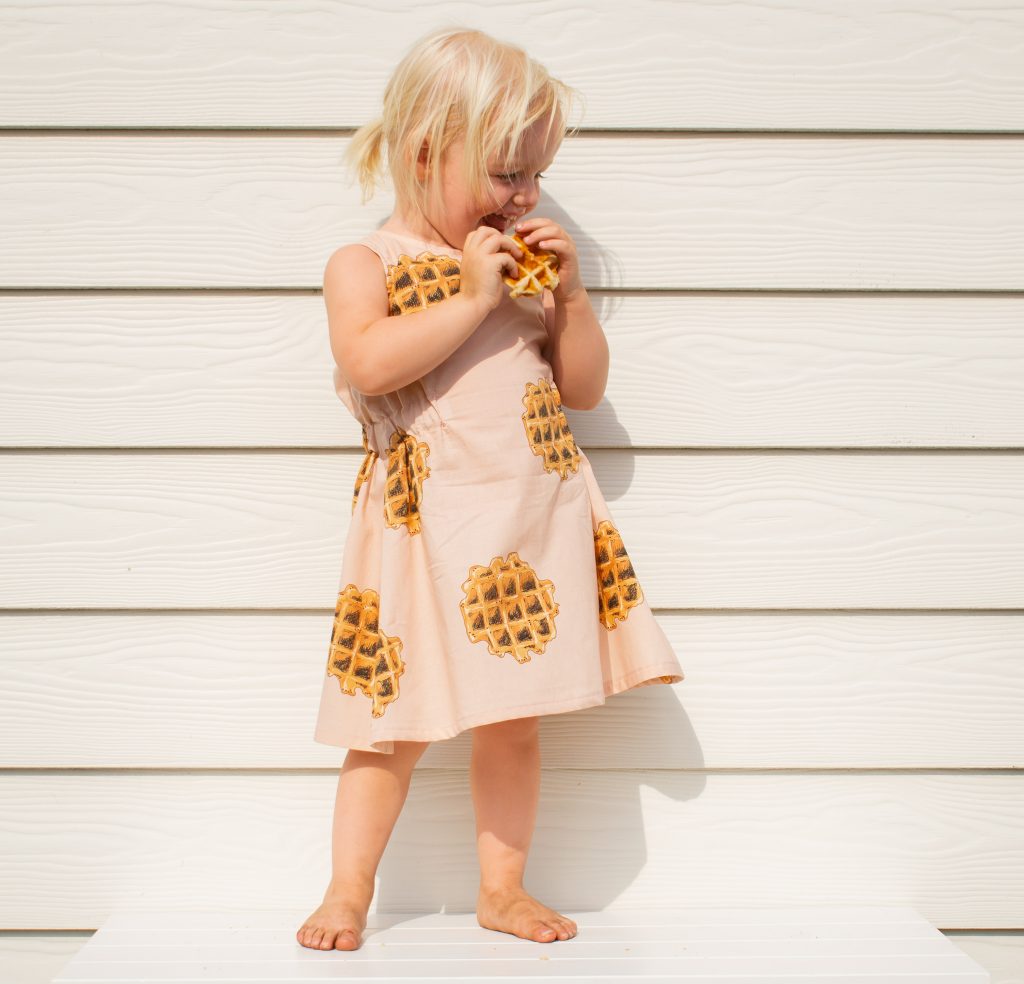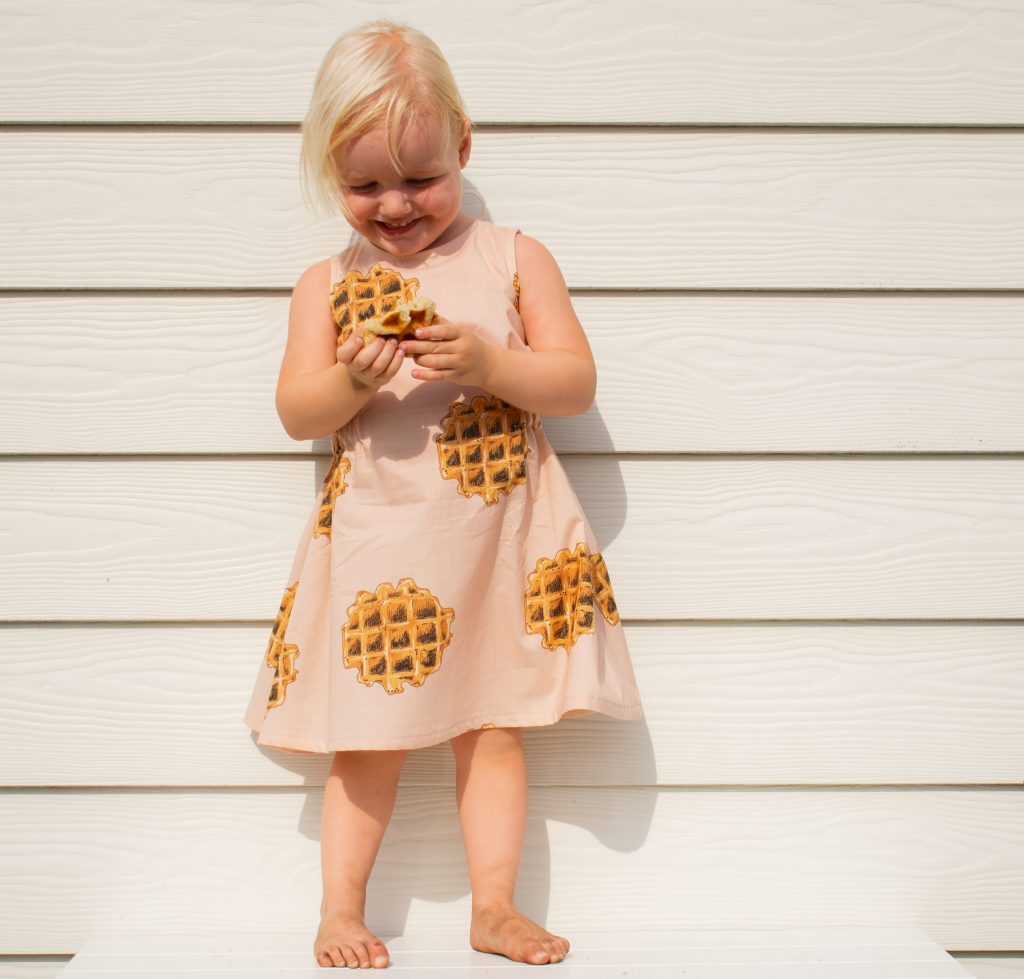 Als je goed kijkt, zie je dat ze vieze voetjes heeft.
Ze doet niet liever dan zonder schoentjes buiten lopen, achter grote zus aan, en dan nog liefst in het zwarte zand.
Het heerlijke weer zorgt er dan ook voor dat ze meer buiten dan binnen spelen, zalig!
If you look closely, you can see her dirty little feet.
She loves running outside, barefoot and chasing her big sister.
We're having great weather so they're playing more outside than inside, love that!

Achteraan is er een opening voorzien om het hoofdje door te krijgen.
Die is, net zoals de halslijn, afgewerkt met biaisband.
Ook de armsgaten bij deze mouwloze versie zijn afgewerkt met biais.
At the back there's a keyhole opening to put the dress on.
It's finished with bias binding, just as the neckline is.
The armholes are finished with bias tape as well in this sleeveless version.
Tijdens de blogtour krijg je niet minder dan 20% korting bij aankoop van het Finch patroon, gebruik hiervoor de code FINCHFRIENDS.
Het patroon (maten 1 jaar tot 12 jaar) omvat een A4 versie om thuis te printen, een A0 versie om te laten printen in de copyshop en een gedetailleerde handleiding.
Hier vind je het Nederlandstalige patroon.
During the blogtour, Suz offers a 20% discount (use the code FINCHFRIENDS).
The pattern (sizes 12mo – 12y) includes a print at home file, a copyshop print file and detailed instructions.
You can find the English pattern here.
Thanks for having me Suz!
Find some more inspiration here:
Molemieke//Kneesocks and Goldilocks//Kaatjenaaisels//zoe.van.den.heuvel
Flaflinko//Bel'Etoile//StraightGrain//des etoiles et des pois
IsewBlanche//Froeleintilia//AngieBurgett//Sewitcurly
Love, Isabel
Altijd blij met jullie reacties!
[instagram-feed num=3 cols=3]